AC90 Professional Solutions for Sizing Machine
Because the interfiber bonding force of greige yarn is not strong and there is too much hair on the surface, it is difficult to weave directly. In order to improve the weavability of warp yarn on the loom, people adopts sizing machine to coat the yarn surface with a layer of serosa. It will effectively increase the wear resistance and reduce the rate of breakage, so the weaving can run more smoothly as the yarn is strong enough to bear the repeated friction, stretch and bend on ding, heddle, reed.
Sizing machine can be divided into various types by the sizing methods, including shaft type sizing machine, sizing-dyeing machine, warping-sizing machine, warping-drawing-sizing united machine and so on.

Part 1. Disadvantages of Traditional Sizing Machine
1. Winding and moulding is not satisfactory
2. Low productivity
3. High maintenance cost
The traditional equipment adopts slip motor and mechanical friction plate as the winding mode. When the device detects excessive tension, it will increase the rewinding friction in order to adjust tension. This will cause friction plate damage due to heat. According to our customers' introduction, the winding sections need to be repaired every 2 months which costs about $60.
Part 2. Advantages of Using Veichi AC90 on Sizing Machine
If you apply AC90 tension control VFD for controlling your sizing machine, the productivity will be greatly enhanced and the equipment maintenance cost will be decreased also.
1. Steady tension control
The traditional equipments control winding via increasing or decreasing friction method that the control accuracy is low. If you apply our AC90 tension control frequency inverter for controlling the sizing machine, the tension control accuracy will be highly improved (=±3%). Additionally, it keeps the whole system running more smoothly.
2. Perfect moulding effect
The traditional sizing machine cannot control the taper tension, so the moulding effect is unsatisfactory. However, Veichi AC90 has been built-in with taper computing function which can ensure perfect moulding effect.
3. Adjust speed and tension separately
With this function, people can operate it conveniently.
4. Improve the producing technique
As the sizing machine is usually working in hot and humid environment, so our AC90 has been specially developed with anti-dust and moisture-proof design.
5. Easy to debugging
AC90 is designed with intuitive user interface and personalized parameter setting mode, which makes the operation and debugging pretty easy.
Part 3. Wiring Layout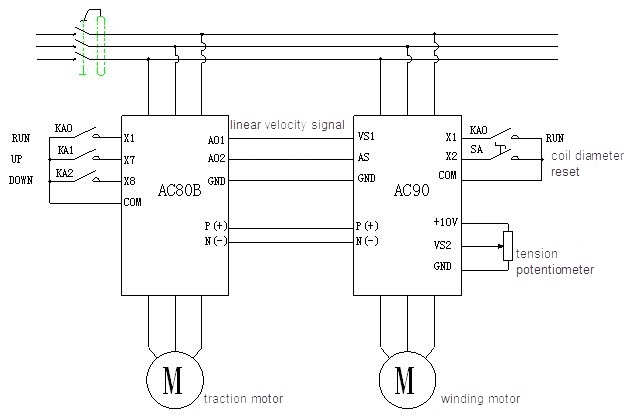 Part 4. Debugging Steps
1. Remove the motor load, enter the motor parameters into AC90 VFD, start self learning of motor rotation.
2. Get the exact motor parameters and the mechanical reduction ratio of winding side.
3. Input parameters according to the wiring diagram.
4. Adjust tension gradually from small to large to find the required tension value.
Part 5. Parameter Setting
1. Parameters of AC80C for traction
| | | |
| --- | --- | --- |
| Function Code | Function Name | Recommended Setting |
| F0.00 | Control mode | 0 |
| F0.01 | Speed/torque control mode | 0 |
| F0.02 | Command running channel | 1 |
| F0.03 | Main frequency given channel | 7 |
| F0.14 | Accelerating time 1 | 5 |
| F0.15 | Decelerating time 1 | 5 |
| F2.06 | Multi-function terminal X7 | 10 |
| F2.07 | Multi-function terminal X8 | 11 |
| F3.22 | A01 output option | 1 |
| F3.23 | A02 output option | 1 |
| F3.26 | A02 signal selection | 1 |
2. Parameters of AC90 for winding
| | | |
| --- | --- | --- |
| Function Code | Function Name | Recommended Setting |
| F0.00 | Control mode | 0 |
| F0.01 | Speed/torque control mode | 1 |
| F0.02 | Command running channel | 1 |
| F0.03 | Main frequency given channel | 4 |
| F0.14 | Accelerating time 1 | 0.5 |
| F0.15 | Decelerating time 1 | 1 |
| F2.00 | Multi-function terminal X1 | 1 |
| F2.01 | Multi-function terminal X2 | 56 |
| F3.11 | AS lower limit set | 8 |
| F9.00 | Tension setting source | 0003 |
| F9.03 | Tension number given | According to actual condition |
| F9.05 | Taper tension coefficient | According to actual condition |
| F9.11 | Winding diameter computing method | 1 |
| F9.13 | Winding diameter | According to actual condition |
| F9.21 | Winding diameter computing cut-off frequency | 5 |
| F9.25 | Linear velocity input source | 2 |
| F9.26 | Maximum linear velocity | According to actual condition |
| F9.27 | Winding diameter computing minimum linear velocity | According to actual condition |